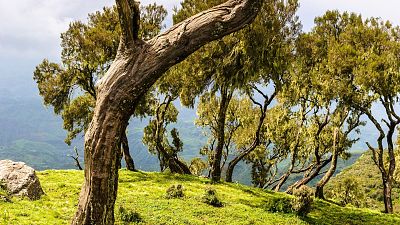 Ethiopians are planting millions of tree seedlings   –   Copyright By Mesfin Tegenu  •  Updated: 06/08/2021
Mesfin Tegenu is the Executive Chairman of the American Ethiopian Public Affairs Committee (AEPAC). Here he gives us his take on Ethiopia's innovative approach to tackling climate change and explains how it's related to the crisis in Tigray.
Last month Ethiopians headed to the polls in the country's freëst election ever. It was the first time since 2005 that multiple parties had taken part and the first time ever that opposition leaders were allowed to engage in TV debates.
The conflict in Tigray, of course, cast a dark shadow over events, but as the Africa Union Observer Mission concluded: "there was nothing, in the Mission's estimation, that distracted from the credible conduct of the elections."
But, there was another story that was overlooked by the newscycle.
As voters went to cast their vote, they were also encouraged to plant a tree. The Ministry of Agriculture announced over the weekend that Ethiopians planted 87.4 million seedlings on election day. A remarkable achievement and a world first.